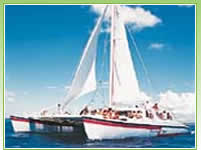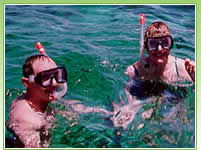 Special Sunday Sunbathe, Sail and Snorkel, with Lunch in Nassau, Bahamas
This vessel is a sleek 57' sailing catamaran that will carry you at a high speed driven by the tradewinds and the sails themselves. The point of this trip is to relax, put your feet up after a crazy morning or a late arrival into Nassau, and just "feel the wind".

Sail to world famous Rose Island, relax on the beach, explore the island or snorkel it's gorgeous coral reefs. Enjoy a delicious lunch of BBQ ribs and chicken with salads, Bahamian peas n'rice and fruits. A wonderful fun experience for families and couples
Days of Operation
Sunday Only, Departure Times: 10:00 am (5 hrs)
Taxi Instructions
Taxi and Transfers Required - Specific pick up or taxi instructions will appear on your voucher after you purchase your trip.
Special Instructions
Bring swimsuit, beach towel and sunblock. Snorkel equipment,lunch and complimentary soft drinks and rum punches are included.

This tour starts at the Paradise Island Ferry Terminal. Meeting instructions will be included in your voucher.

All prices include service fee.