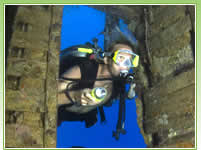 (Scuba) 2 Tank Dive for Certified Divers in Nassau, Bahamas
This is a thrilling diving experience among the stunning natural coral walls and the Hollywood underwater movie settings. This location offers a wide variety of underwater encounters including colorful shallow reefs and sunken shipwrecks.

Your first dive is along a beautiful wall that begins at 35' and drops off dramatically to 6000' into the Tongue-of-the-Ocean.

Your second dive will be a beautiful shallow reef or a shipwreck. Famous for it's shipwrecks that include the Tears of Allah, which was sunk for a James Bond movie and the Willaurie shipwreck, Nassau's waters are never boring.

Tanks & weights are included in the price. BC's, Regs, etc. are available for rent at the dive shop.

Equipment Rental Rates:
$8 - Regulator
$8 - BC's
$8 - Mask, Fins, Snorkel
$15 - Dive Computer
$10 - Wet Suit
Days of Operation
Mon-Sun, Departure Times: 08:00 AM (5.5 hours), 12:00 pm (5.5 hrs)
Taxi Instructions
No Taxi Required - Specific pick up or taxi instructions will appear on your voucher after you purchase your trip.
Special Instructions
Price includes tanks and weights. Bring towel, sunblock and a dry T-shirt. Transfers from the cruise ship pier are included.
Restrictions
This is for certified divers only. You must bring your C-card. If you have not been diving within the past three years, you must take the Discover Scuba Course. Divers must not have any stress induced asthma, heart problems, diabetes, high blood pressure, epilepsy lung disease or any other major physical problems.

Children under age 5 are not permitted on the boat. Observers must stay in the boat. They are not allowed to enter the water.