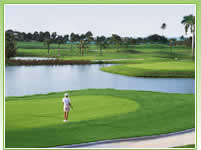 Golf Nassau's Cable Beach Course in Nassau, Bahamas
Come enjoy one of the finest championship courses in the Caribbean!

The newly redesigned golf course plays 6,453 yards and features spacious fairways guarded by a beautiful network of lakes. The greens are protected by a series of multiple mounds to create containment to assist the golfer who occasionally strikes a stray shot. Additionally, the course features a minimum of sand bunkers making it a challenging but "resort friendly" course for golfers of all skill levels.

Times offered are general guidelines. An exact tee time will be assigned upon confirmation. If your schedule requires a special tee time, just let us know.

Your cost includes green fees and your cart.
Powerbuilt clubs are available for rent upon your arrival for $30.00.
Days of Operation
Mon-Sun, Departure Times: 08:00 (4 hrs), 09:00 am (4 hrs), 11:00 am (4 hrs), 01:00 pm (4 hrs), 02:00 pm (4 hrs)
Taxi Instructions
Taxi and Transfers Required - Specific pick up or taxi instructions will appear on your voucher after you purchase your trip.
Special Instructions
Proper golf attire is required. Club rentals are available at the course for $30.

The taxi ride from the cruise pier is 20 minutes. The approximate cost is $20 each way for up to 2 people.