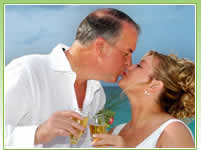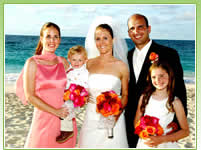 (Wedding) Beach Wedding in Nassau in Nassau, Bahamas
If you would like to be married while barefoot on the beach, a beautiful simple ceremony, just the two of you or a few friends, then this is the wedding for you. The Bahamas offers lovely oceanfront settings with aquamarine waters and sunny blue skies. The perfect location for a Caribbean wedding.

We will take care of everything! This includes picking up both Bride and Groom from their hotel/cruise ship to taking care of their paper work (marriage license). We make it easy for you to have a easy, stress free day.

This Beach Ceremony includes:

• Coordinator Service
• Marriage Documents
• Certified marriage certificate
• Nassau beach location
• Minister to perform ceremony
• Bridal bouquet
• Groom's boutonniere
• Witnesses if necessary

Upgrades (photography, cakes, etc) can be added once the intial package is reserved. The upgrades will be arranged for directly with your coordinator.
Days of Operation
Actual time of wedding will be arranged with the coordinator once reserved
No Taxi Required
Taxi and Transfers Required - Specific pick up or taxi instructions will appear on your voucher after you purchase your trip.
Special Instructions
Contact information for the wedding coordinator will be on your voucher.

In order to get married in Nassau, you must bring your passports, a letter from the purser/captain of your ship confirming you as arriving on a cruise ship, your ship boarding card and certified copies of divorce decrees, dissolution decrees or death certificate of previous marriages if applicable. All documents must be faxed or emailed at least 15 days prior to the wedding date.
Restrictions
Nassau weddings must be booked 5 WEEKS in advance to allow for legal paperwork to be processed.

You will receive 50% of your money back if you cancel your wedding. There will be no refund if cancellation is made two weeks or less. If your cruise ship is unable to dock because of bad weather, you will receive a 75% refund.