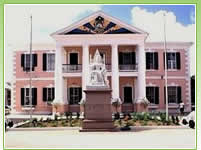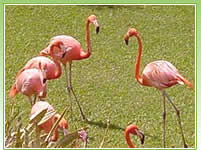 (Group Trip) Nassau Highlights and Ardastra Gardens Tour via Limousine in Nassau, Bahamas
This tour will familiarize you with Nassau proper as you take the ride through downtown, past the Parliament Square and the Queen's Staircase, a major landmark here. The National Public Museum, the Royal Victoria Hotel, the relocated Straw Market will all be part of the tour before you stop at Nassau's famous Ardastra Gardens.

Here you can roam over the 5 acres of nature filled with exotic fruit trees, coconut palms, ackee and mango trees, brilliantly coloured bougainvillea and hibiscus blossoms of every hue. Most of all, we will make sure you arrive in time to watch a special show of the marching flamingoes, referred to by some as the 'ballerinas in pink'.

Three times a day, the flock of flamingoes marches to the commands of a friendly drill sergeant, bobbing this way, turning that, dutifully obeying the marching instructions. It is a sight to be seen and remembered.

We will take you back to Prince George Wharf where you can get back on your ship or backtrack through some of the lovely shops you passed during the tour.
Days of Operation
Mon-Sun, Depature Times: 09:00 am (2.5 hrs), 12:30 pm (2.5 hrs), 02:30 pm (2.5 hrs)
No Taxi Required
No Taxi Required - Specific pick up or taxi instructions will appear on your voucher after you purchase your trip.
Restrictions
This is a tour for a group of 12 people or more. This trip is not available on December 25th or 26th.