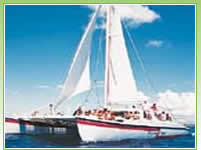 (Group Trip) Half Day Sailing and Snorkel Catamaran Cruise in Nassau, Bahamas
This vessel is a sleek 57' sailing catamaran that will carry you at a high speed driven by the tradewinds and the sails themselves. The point of this trip is to relax, put your feet up after a crazy morning or a late arrival into Nassau, and just "feel the wind".

Sail to world famous Rose Island where you can swim and snorkel at your leisure or relax on the beach.
Days of Operation
Mon-Sun, Depature Times: 09:15 am (3.5 hrs, Not offered on Mondays), 1:15 pm (3.5 hrs, Not offered on Sundays)
No Taxi Required
No Taxi Required - Specific pick up or taxi instructions will appear on your voucher after you purchase your trip.
Special Instructions
Bring swimsuit, beach towel and sunblock. Snorkel equipment is included.
Restrictions
Make sure the trip times work with your cruise schedule. Afternoon trip does not return until 5:30pm.

PLEASE NOTE, CRUISE SHIP PASSENGERS WILL BE MET NEAR THE CRUISE SHIP PIER. HOTELS GUESTS MUST PURCHASE THE ROUND TRIP TRANSFERS AT A COST OF $7.00 PER PERSON, OR MAY FIND THEIR OWN TRANSPORTATION TO THE DEPARTURE POINT. Specific meeting instructions will appear on your voucher.

This trip does not operate on Christmas Day or New Year's Day.