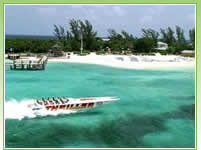 Stingray Express To Blackbeard's Cay in Nassau, Bahamas
Ride in style and luxury on the Thriller powerboat to Nassau's beautiful Blackbeard's Cay for visiting the stingrays and enjoying the beach. In only 6 fast, invigorating minutes you'll be there, ready to soak up the sun and interact with the always smiling Southern Stingrays. Enjoy wading or snorkeling with the rays as they gracefully glide around you. The shallow water is the perfect way for children to meet and pet these gentle creatures. You can also visit the area where the babies are kept and watch the trainers feed the stingrays en masse. To put your mind at ease, please be aware these stingrays are harmless, tame and have had their barbs clipped. While you are within the enclosed area of the beach, your snorkel gear is included in the cost. You may visit with the stingrays as long as you wish.

When the stingrays have finally exhausted you, you can enjoy the public beach area on the island, with its soft, powdery sand for digging your toes into or building sand castles and crystal clear, vibrant blue water for swimming or snorkeling (snorkel equipment is available for rent). Chairs are provided for relaxing or there's beach volleyball, limbo dancing and lots of beach toys for those looking for some activity.

Beverages, a BBQ lunch and souvenirs are all available for purchase at Blackbeard's Cay.
Days of Operation
Weds & Sat Only, Depature Times: 10:00 pm (3.5 hrs, Saturday Only), 1:00 pm (3.5 hrs, Wednesday Only)
No Taxi Required
Taxi and Transfers Required - Specific pick up or taxi instructions will appear on your voucher after you purchase your trip.
Special Instructions
Bring swimsuit, sunblock, towels, everything you need for a day at the beach. Bring cash to purchase food, beverages and souvenirs at Blackbeards Cay. Float mats can be rented for $5.00.

Depending on the location of your hotel, you might have to take a taxi to the departure point for this tour. Specific instructions will appear on your voucher.
Restrictions
This tour is NOT available for cruise ship passengers.

This ride is not suitable for pregnant women or children under 5 years of age, or people with conditions that might be affected by a high speed ride. The maximum weight allowed is 350 pounds, maximum age is 60 years old.