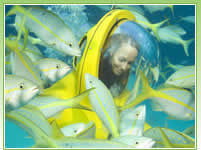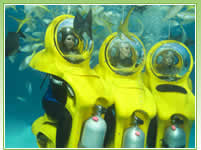 Your Own Scenic Underwater Bubble in Nassau, Bahamas
First of all, you and your fellow pilots will receive a submarine orientation. You will learn how to drive this machine--just simple operating and communication procedures. You'll even try one out on land to familiarize yourself with the easy to use controls.

After that, you will board a 55' support vessel that will take you to a beautiful reef, one of two stops you will make. The custom-built motorboat will lower your SUB into the water. All you need to do is pop your head into the large clear bubble helmet and sit down and - you're off!

The battery-powered scooter travels at about 2 knots and will hover between 20 and 25 feet, tethered to a float on the surface and controlled entirely by you. Sealife will surround you. You will have 45 minutes actual "driving" time in your personal sub.

While 1/2 of your group is riding their personal subs, the other half will have the opportunity to snorkel (snorkel gear included in the price). The total boat trip lasts approximately 3 hours.
Days of Operation
Tues, Weds, Fri, Sat, Sun, Departure Times: 08:00 AM (8 hours), 12:00 pm (6 hrs)
Taxi Instructions
No Taxi Required - Specific pick up or taxi instructions will appear on your voucher after you purchase your trip.
Special Instructions
This trip fills up fast. Don't delay. Bring a towel, sunblock and a dry T-shirt.
Restrictions
Minimum 12 years of age. There is a weight limit of 250 pounds. Sub participants must not have any stress induced asthma, heart problems, high blood pressure, epilepsy lung disease or any other major physical problems. If you have a head cold or sinus problems, it is advisable to take a decongestant before taking this trip.